Recently, the NBA has enforced some NEW rules for the players and they are not happy. According to the new bargaining agreement, all players will have their guns confiscated. This is NUTS, considering every American has a Constitutional right to own a gun! YIKES!
Reported by SP,
Multi-millionaire athletes are subject to a lot of shenanigans from radicals who may want to cause them harm.
According to the NBA's new collective bargaining agreement, players can no longer have guns.
THAT IS A CONSTITUTIONAL RIGHT!
Details of the NBA's new collective bargaining agreement are still leaking out in dribs and drabs, as the big-money items get the most attention (players naturally want to know how much they'll be making, and horrified fans want to know exactly how much their team will pay on Jrue Holiday's inevitable max contract). And, of course, the CBA's not officially done yet; they've got a framework in place, the whole thing won't be published until it's signed and sealed.
According to deadspin,
But for now, Basketball Insiders gives a tiny glimpse at some updated language in the "prohibited activities" section:
Other areas in the deal include health insurance and an increased pension for retired players, prohibited activities (now including fireworks, firearms, jet skiing, hoverboards, trampoline jumping, etc.) and a comprehensive policy for domestic violence incidents.
Banana boats: Still OK!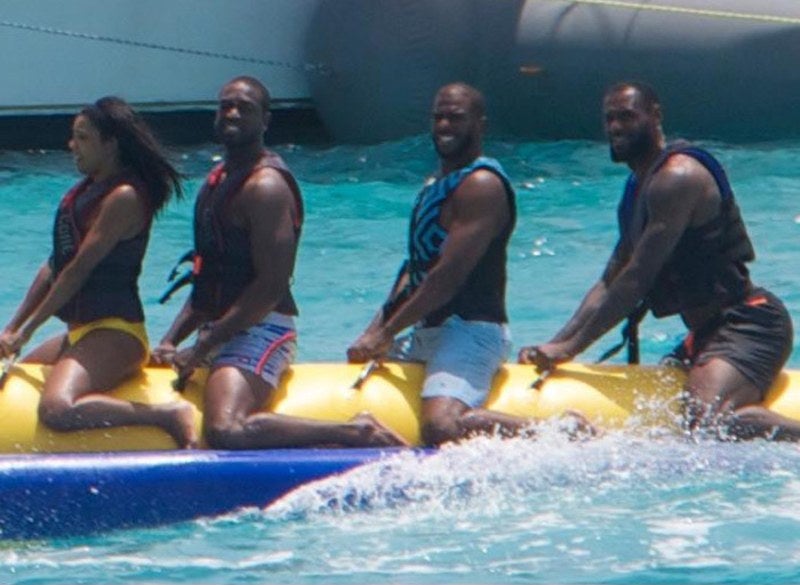 The common thread among all these newly prohibited activities is, of course, the risk of injury. Fireworks blow up hands. Trampolines cause compound fractures. Guns are guns. Even J.R. Smith's favorite in-arena conveyance of 2015, the hoverboard, can be an emergency room visit waiting to happen.
How do you feel about the NBA taking players rights away?